HAPPY THURSDAY!
Today, we'll be going over our plans for the release of our newest OGIENOID; VIRTUS OG02. Included in this briefing will also be her voicebank details, range, and a few extras. As of today, her page has been updated once again to reveal more downloadable content on her character page. Let's get started!
VIRTUS OG02 RELEASE SCHEDULE
We are so excited to share VIRTUS OG02, but we want to give ourselves ample time to prepare. We're working to find the rest of her bugs, finalize her OTO and properly edit her documentation. In the meantime, please look forward to the following demos from VIRTUS OG02:
Oblivious
Magnet
Butterfly and Flower and Spider (Featuring THEIA OG03 and HONOS OG04)
???
REMINDER OF THE UPDATED FORMULA
As mentioned in DIONE OG05's release information blog we have changed the formula for Original/Default voicebanks! We've made the executive decision to release new characters as a single timbre. This is to keep up with our more complex releases like KASAI SALIENT and the Goddess series. However, these single appends will be multipitch, with four unique pitches. The goal is to allow newer OGIENOIDs to show their true potential and range from the beginning, keep their voices relevant for longer, and reduce the number of recordings needed for future expansions. This way, we can create better quality voices and deliver updates to our audience faster than ever before.
VIRTUS OG02'S INITIAL RELEASE AND SPECS
VIRTUS OG02 Default is a Japanese VCV that will include four unique pitches: G3, B3, C#4, G4. Her voice is recorded in a solid, mature tone that makes fit well with soft rock, pop, and more.
Her release will include a folder compatible with both UTAU and OpenUTAU. Extra files included are her full body artwork, reference image, and logo.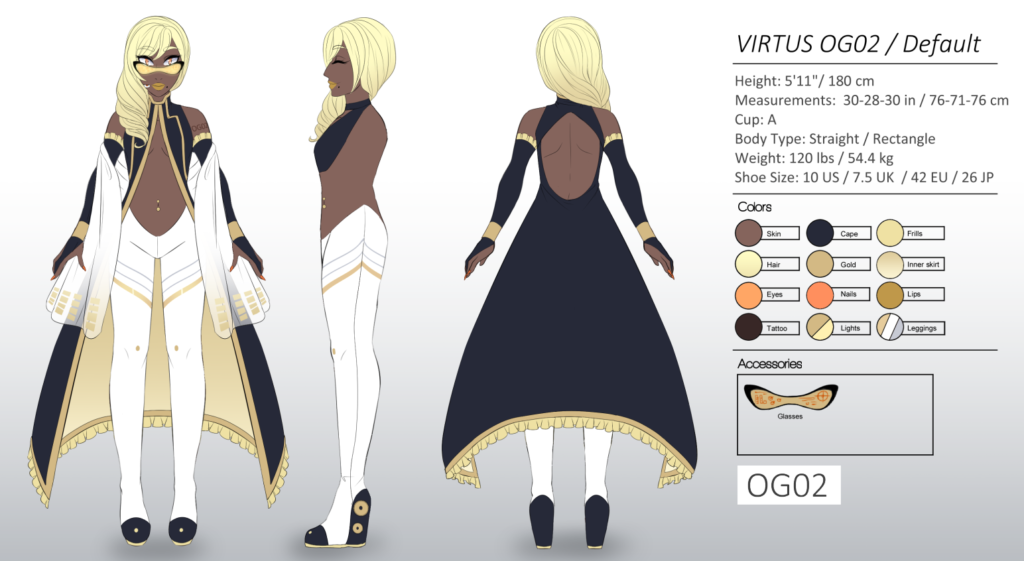 Keep Up To Date
Are you excited for the completion of our rainbow upon our VIRTUS OG02 release? Stay tuned, more info is coming soon! Meanwhile, sign up for our newsletter to stay up to date on our blog releases. Likewise, you can follow us on Twitter, Facebook, or Instagram for more news on our social media.