This week's re-introduction centers on ATLAS OG07, the pink OGIENOID! For those who have followed us since the beginning, you may remember her as our first officially released OGIENOID. As she's been around so long, ATLAS OG07 has been referred to as a Hopeloid, OGLoid, and an OGIENOID! As a fun fact, ATLAS OG07's color scheme was directly influenced by the VY2 Roro design.
Name Origins
Atlas – /ˈætləs/
ATLAS OG07's name comes from two different origins.
The first is the Titan from Greek mythology, punished by Zeus to hold up the heavens until the end of time. The name itself means "to carry," and it bears connotations of great strength.
The second meaning comes from the sciences. In anatomy, the atlas or "C1" is the first cervical vertebra of the spine. It is named the atlas because it supports the skull. Along with the axis (C2), this vertebra specializes in allowing greater ranges of motion than normal vertebrae, and it will enable the head to nod and rotate.
The Second to Awaken
ATLAS OG07 was the second of a set of androids created by KASAI OG01. She took a few hours longer than AXIS OG06 to awaken, and thus had never even seen KASAI OG01.
Atlas, The Confectionary Mastermind
As a child, ATLAS OG07 was isolated from the world, and she was never allowed to step foot out of her home. Over time, as she grew, it became more and more apparent to her caregivers that her existence needed to be hidden. Compared to other androids, it was not as easy to figure out she was not a human (due to her abilities to feel sensations like hot and cold, as well as her deep and heartfelt emotions). Still, her caretakers disguised her within the walls of STUDIO OGIEN's HQ. When asked about her identity, many would say she was the daughter of the company's founder.
Allowed to interact with the most trusted members of the company, ATLAS OG07 flourished alongside humans. During her teenage years, she discovered her love of cooking and baking sweets. To stave off her boredom, her caretakers allowed her to start studying with the company's cooks. Hidden behind the walls of the kitchen, it was perhaps the safest job she could undergo. Her first big job, which she would never forget, was cooking 800 cookies for the annual company Christmas Party!
Still, even with so much joy and satisfaction in her work, ATLAS OG07 still felt a yearning. To her, it felt like part of her was always missing, and she never could quite forget the mint-green-haired girl she'd spotted once or twice in her youth.
Information
As she developed into an adult, a new phenomenon began to trouble ATLAS OG07. She became more aware over time that she knew far too much about the company she worked for. Typically, she often knew the names, birthdays, and personal information of several employees, even before meeting them. Sometimes, at night, her dreams were also filled with images of people she had never met…
Today
In the story's timeline, ATLAS OG07 works as a cook and pastry chef for STUDIO OGIEN's HQ. When the story begins, she has never stepped foot outside her home.
Her current representation to the public is outside of the story's universe. Normally a shy girl, ATLAS OG07 blossoms into her true self under the spotlight. Her favorite thing is singing with her friends and family!
Character Description:
(From her character page): ATLAS OG07 is what one might call a "Christmas Freak," prepping for the OGIENOID Christmas Party as soon as July hits. Though she doesn't understand the religious aspect (since she's not a human), she loves the magical aspects of the holiday itself (ex: Santa, reindeer, etc.) and the time of year. Her primary hobby is baking sweets, and she always loves trying out new recipes.
She is a rather shy and reserved individual, very obviously influenced by her social anxiety. Growing up, ATLAS OG07 was not allowed to speak with strangers or other artificial humans in fear that she would reveal she was not a legal entity. The lack of contact over time caused her to be ill-equipped with communication.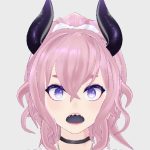 Seran, the founder of STUDIO OGIEN, established the platform in 2014 as a medium to showcase her creative works and stories. With a strong professional background in web development and a lifelong interest in technology, she holds a particular fascination for vocal synthesis. Dreaming of becoming an author, she channels her commitment into crafting captivating narratives through STUDIO OGIEN. She hopes to highlight her genuine dedication to her craft and unwavering pursuit of art through the studio, where she integrates her love for technology and vocal synthesis into her works.