This week we re-introduce our mint OGIENOID, AXIS OG06! Originally debuted with a totally different design, AXIS OG06 has developed a lot. Not only backstory but looks and personality as well!
Name Origins
Axis – /ˈæksɪs/
AXIS OG06's name is derived from the axis (C2) vertebra of the spine. This vertebra, with the atlas (C1), helps to form the skull's pivot point. Simply, the axis allows the atlas (which supports the head) to rotate.
Axis also refers to an imaginary line about which a body, such as a planet, rotates. In this way, Axis is what the planet rotates around, while Atlas supports it.
AXIS OG06's original design was more closed and monotone in color. As she grew and become more confident as a character, we felt her attire no longer reflected her new personality traits. In 2018, we had her design revised and retired her original outfit. We actually do have an image of her original concept art as well, back from 2014-2015! AXIS OG06 sure has changed a lot!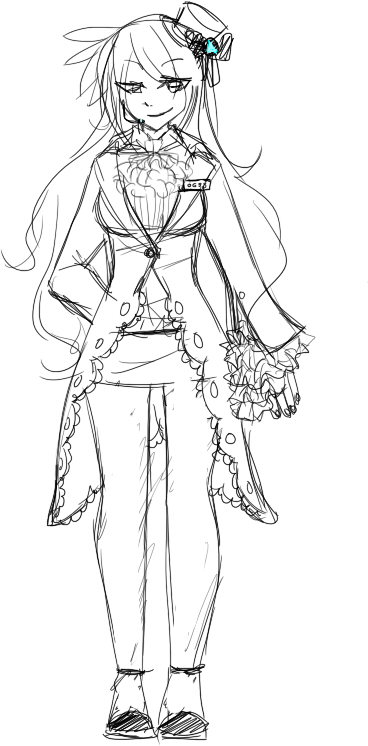 The First to Awaken
AXIS OG06 was the first of a set of androids created by KASAI OG01. Her first core memory was waking inside a pristine, white laboratory alongside her siblings. The first to arise, she was the only creation of KASAI OG01 to ever see her in person, if only for a moment.
Growing Pains
As a child, AXIS OG06 was isolated from the world, and she was never allowed to step foot out of her home.
She always remembered another android child from the lab. The girl had been dazed and confused upon waking, but she had still managed to make her way over to the other child. Even as she grew, she never forgot the pink-haired girl asleep in her cryogenic chamber. Somehow, even as a teenager, she never quite shook the overwhelming urge to see the girl again.
On one particular day, AXIS OG06 had been scheduled to meet with a stranger. The room she met with this person in had a large, glass wall that revealed a major hallway. At just the right moment, she glanced at a passerby through the wall and saw the person she had been eager to meet all her life. The two glanced at one another for only a split moment, but the event re-lit AXIS's fire. From there on out, her one and only goal became the hunt for information about the girl… About her sister.
From the day she was found within the laboratory, AXIS OG06 was told she was different from those she was allowed to interact with, and that she was not human. She grew up knowing she was an android, and she learned the differences between herself and the lab workers who took care of her rather quickly. However, over time, she realized these humans didn't believe her emotions were real, and the lab workers chastised her that her obsession with her "sister" was an unnatural blip in her code. Fearing the lab workers would take actions against her, or worse, erase her memories, she bottled up her feelings, becoming cold, quiet, and rather nihilistic.
AXIS's Memories
As she grew into an adult, a strange occurrence began to plague AXIS OG06. During the night, she experienced incredibly vivid nightmares. It started off once a month, then biweekly, but, soon, it was every night. Each dream was more horrible than the last, and, soon, it was affecting her personality and performance. She longed for comfort but knew no one would give it to her.
The Present
In the story's timeline, AXIS OG06 has lived her days as a science experiment for the rich and powerful. When the story begins, she has never stepped foot outside her home.
Her current representation to the public is outside of the story's universe. AXIS OG06 spends her days supporting her fellow OGIENOIDs in song and dance, as well as looking after her three children, Artemis, Gaia, and Lyra.
Character Description:
(From her character page): In her youth, AXIS OG06 was a rather cold and nihilistic child, aware that she and her sister had been separated. She was reticent and analytical, as she was not allowed to talk much during her years as a test subject. Still, she was relatively obsessed with the sister she never met, dreaming of better days where the two could live together and be themselves. AXIS OG06 has always been someone that craves familial bonds.
Once she and ATLAS OG07 could get to know one another, she became a warm, protective, and rather mothering individual. In the present, AXIS OG06 has become a nurturing, confident woman that focuses on her friends and family above all else.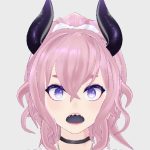 Seran, the founder of STUDIO OGIEN, established the platform in 2014 as a medium to showcase her creative works and stories. With a strong professional background in web development and a lifelong interest in technology, she holds a particular fascination for vocal synthesis. Dreaming of becoming an author, she channels her commitment into crafting captivating narratives through STUDIO OGIEN. She hopes to highlight her genuine dedication to her craft and unwavering pursuit of art through the studio, where she integrates her love for technology and vocal synthesis into her works.