THEIA OG03 officially joins our OGIENOID lineup!
A vivid, lively vocal that inspires excitement in her listeners!
THEIA OG03's voicebank is a mono-pitch VCV style VB with a few different voice types. She boasts a lively, feminine contralto voice in three different timbres: soft, normal, and strong.
The full version combines three voicebanks into one, allowing the user to plug in "↑" or "↓" into the UST from the SuffixBroker for appends. This makes all voices available to use in one UST, which helps to make editing, tuning, and mixing faster and easier.
Personality: The original leader of the OGIENOIDs, she finds joy in helping others succeed. Though a little bit bossy, THEIA OG03's optimistic nature is infectious! Theia is perhaps the most energetic, optimistic individual you may ever meet! Constantly looking on the bright side, it's hard to get her down. She's a little bit of a flirt, but she just can't help herself around cute girls! When it comes time to get to work, however, she is extremely professional and puts her feelings aside.
Relationships: Of all the OGIENOIDs, THEIA OG03 is closest to HONOS OG04 and VIRTUS OG02, the other two members of her triad. Since her development began, the three were always together, so they are very comfortable in each other's presence. Still, THEIA OG03 would call herself a friend of every OGIENOID. Being their original leader, she developed many mentor-student relationships throughout her career.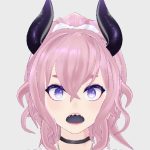 Seran, the founder of STUDIO OGIEN, established the platform in 2014 as a medium to showcase her creative works and stories. With a strong professional background in web development and a lifelong interest in technology, she holds a particular fascination for vocal synthesis. Dreaming of becoming an author, she channels her commitment into crafting captivating narratives through STUDIO OGIEN. She hopes to highlight her genuine dedication to her craft and unwavering pursuit of art through the studio, where she integrates her love for technology and vocal synthesis into her works.