APOLLO OG0X has been a work in progress for a few months now, but she's finally finished. We've worked hard, and we hope you enjoy her!
About APOLLO OG0X:
Personality: Moody, solitary. Easily described as a "brat." APOLLO OG0X prefers not to be bothered, going so far as to shut herself in her room every day unless dragged out. Moody and often irritable, she's quick to snap back and start an argument. But, though she tries hard to hide it, she has a soft side; she prefers not to show it, just like any other teenager. Talk about growing pains! Her fellow OGIENOIDs are concerned she is addicted to video games.

Relationships: APOLLO OG0X tends to keep to herself, but of all the OGIENOIDs, she is closest to ATLAS OG07 because she "totally just won't leave me alone!". APOLLO OG0X looks up to HONOS OG04 due to her relaxed, calm attitude.
About the Voice:
APOLLO OG0X boasts a robust, tomboyish voice fit for many different genres of music. Like all OGIENOID standard releases, she possesses three Japanese VCV voice libraries, one soft, one standard, and one power.

Her full version combines the three voicebanks into one, allowing the user to plug in "↑" or "↓" into the UST from the SuffixBroker for appends. This makes all voices available to use in one UST, which helps to make editing, tuning, and mixing faster and easier.
You can download her new voicebanks on her very own page by clicking here!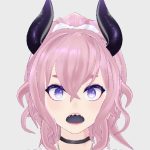 Seran, the founder of STUDIO OGIEN, established the platform in 2014 as a medium to showcase her creative works and stories. With a strong professional background in web development and a lifelong interest in technology, she holds a particular fascination for vocal synthesis. Dreaming of becoming an author, she channels her commitment into crafting captivating narratives through STUDIO OGIEN. She hopes to highlight her genuine dedication to her craft and unwavering pursuit of art through the studio, where she integrates her love for technology and vocal synthesis into her works.