A General Refresh
Over the summer, STUDIO OGIEN will be performing a bit of cleanup, updates, and general maintenance across its website, voicebanks, and documentation. Let's go over these recent developments together in today's blog!
Changes and Updates to OGIENOID Voicebanks
Discontinuing and Replacing Outdated Voices
Times are changing, and we've grown a lot since the initial release of a few voicebanks! We've come to a decision to do a little house keeping and retire some voices we are not as happy with as we used to be and replacing them with newer models. The first voicebank we are discontinuing is KASAI OG01 "Original". KASAI OG01 Original will be replaced with "Original V2", which will be a lite version of SALIENT. Likewise, we will also be discontinuing AXIS OG06 "Original". This voicebank will also be replaced with "Original V2" late in the year or early next year. AXIS OG06 Original V2 will be a lite version of ULTIMATE, coming in 2023.
Improvements to Accessibility
Not everyone has equal access to fast, reliable internet, but that shouldn't stop you from having fun and doing what you love. For these members of our audience, we will be tweaking current voicebank downloads as well as future releases. STUDIO OGIEN will begin splitting up appends and pitches to download individually for those with low storage and slow internet speeds. This way, visitors on our site can download assets one at a time to prevent timeout errors or having to leave their computers on and active for extended periods of time. We truly do not wish to leave anyone out, so we hope these changes will help those who need the option.
Moving Forward With OpenUTAU
STUDIO OGIEN will begin updating current voicebanks to be compatible with both UTAU and OpenUTAU. If for some reason they can't be utilized by both with one file, select voicebanks will be split into two downloads, one for each software. Going off the above point, all tutorial blogs will be updated for more information on using OGIENOIDs in OpenUTAU.
However, starting in 2023, we will be releasing voicebanks with OpenUTAU first in mind. This may eventually effect voicebank compatibility with UTAU, but we will do our best to avoid this outcome.
Changes to Character Pages
Starting with KASAI OG01's character page, we will be re-formatting the voicebank download sections. We will begin organizing tabs by language and including voicebanks in a more compact layout. Additionally, we'll be updating all character pages to reflect the format updates made on DIONE OG05 and VIRTUS OG02's downloads section. Users will now have direct access to full body boxarts and logos!
However, we do have one negative change with our downloadable assets for the OGIENOIDs. As of today, we are discontinuing new LipSync models due to low usage. Each girl will get a default LipSync and a Goddess LipSync (if they have a Goddess voicebank). Further, we will no longer include new LipSync models for every voicebank release.
Monthly Scheduled Website Maintenance
We will be implementing scheduled end-of-the-month maintenance on the official website starting in June. This will take place on the last Friday of each month, making the site potentially inaccessible for a few hours. The times will unfortunately be random and will depend upon the availability of group members to maintain. Please plan in advance if you are in need of assets or downloads!
Other Updates
Whew! That was a lot. Now for a few final notes that are more fun! STUDIO OGIEN is unleashing new products to our Redbubble shop. If you have any special requests, please let us know! Likewise, we are, after all this time, planning to offer physical boxarts and other fun products like keychain, buttons, and, eventually, printed version of- oops~! We can't tell you that just yet! You'll just have to stick around for a very special future update to find out. Let's just say, there's nothing better in the world than the smell of a new book…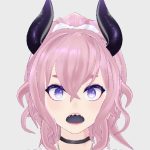 Seran, the founder of STUDIO OGIEN, established the platform in 2014 as a medium to showcase her creative works and stories. With a strong professional background in web development and a lifelong interest in technology, she holds a particular fascination for vocal synthesis. Dreaming of becoming an author, she channels her commitment into crafting captivating narratives through STUDIO OGIEN. She hopes to highlight her genuine dedication to her craft and unwavering pursuit of art through the studio, where she integrates her love for technology and vocal synthesis into her works.