Recently, Kiko went over installing the UTAU software, but that leaves us with a question; how do we even record for the UTAU software? Not to worry! We've drawn up a small introduction to free audio recording programs for the UTAU software. These two different applications are commonly used with UTAU for recording voicebanks. We will be covering two names that you may be familiar with: the UTAU community's good friends, Audacity and OREMO.
OKAY…SO WHAT IS AUDACITY?
Well, to put it simply, Audacity gives you the audacity to record. Okay, okay, I'm sorry, I couldn't help myself.
Ahem. Anywho. Audacity is a free, open-source, cross-platform audio software. It's a relatively simple program, but it is a great starting point if you are overwhelmed with voicebank recording. With Audacity being so bare-bones, you can use it to learn the basics of recording any audio in general. You can cut, copy, splice, or mix sounds together as well as apply numerous sound effects like pitching a sample up/down.
However, it isn't the best for voicebanks due to the time and file sizes created when recording. When recording a voicebank, users in Audacity will either need to record one sample at a time, exporting and naming the file afterward, OR they must record in one long track, splicing and naming each recording separately afterward. That's a lot of extra work! So, why do we still recommend it?
AUDACITY FOR POST-PROCESSING
Audacity is fantastic for post-processing. The software features multi-export, which is a very handy tool. After your recordings are complete, you can drag and drop several audio samples into the software if need be. Many users take this approach when removing background noise from their recordings. Afterward, one may use Audacity's ability to multi-export each individual track separately, and Audacity will use the track's name to name the exported samples automatically.
Batch-Processing
Alternatively (and much more fun) is Audacity's impressive batch-processing capabilities. With batch-processing, a user can create a unique macro (once referred to as a "chain") of events that Audacity will apply to any audio files within a designated folder. For instance, STUDIO OGIEN uses chains for KASAI OG01 and APOLLO OG0X's development, as both use Audacity's pitch effects to procure their unique voices. These chains include information on how high or low to change the pitch of each sample, as well as what file type to export as (.WAV). Their audio files are run through the chains and automatically exported for minimal work on the team's part, rather than adjusting the pitch on each individual sample.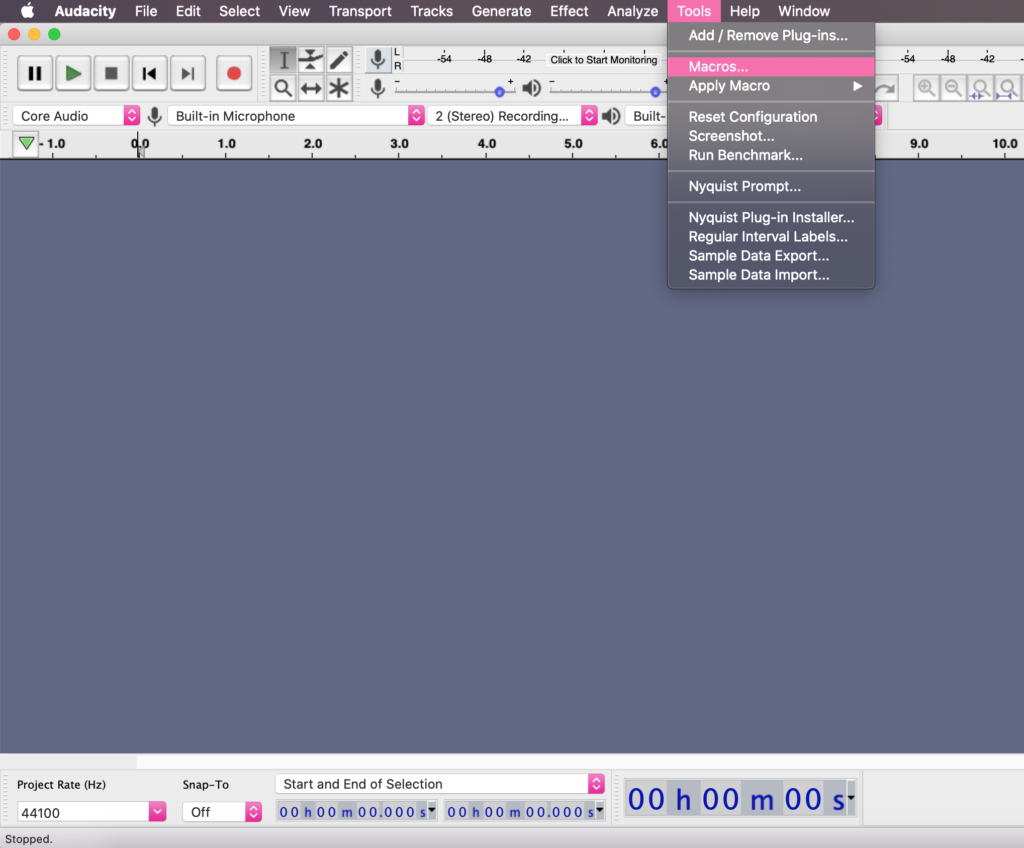 To create a macro
Go to Tools
Select Macros…
Click "New"
Insert a name for the macro
Choose and inserts effects
For UTAU recordings, make sure to include "Export as WAV"
Save it!
A macro has been created! The user can now apply the macro to their preferred audio samples. Note, in the team's experience, macros do not work well with the Noise Removal tool.
To use the macro
Go to Tools
Select Macros…
Select the macro
Browse to the file folder and select the desired files
Select Open
The processed files will be placed in a new folder within the folder of the original files
[Download Audacity] – https://www.audacityteam.org/download/
OREMO AND UTAU: BEST FRIENDS

OREMO, developed by nwp8861, is the main audio recording software that STUDIO OGIEN uses in-house. Why? OREMO is explicitly designed to work with UTAU's voicebank recording methods. The learning curve is upped a bit when you begin OREMO, but many in the community recommend starting with OREMO to help save time and sanity.
One of the best things that OREMO has in its software is auto-saving, which automatically splits each sample into its own, named .WAV file. No more manually exporting or naming files!
OREMO's UTAU Specific Features
OREMO also supplies an array of features that improves the overall recording experience. Users can take advantage of the application's BGM (which plays beats at a specific note while the user records, helping them keep on-time and on-pitch). This is a life-saver when it comes time to configure the OTO. Several community-made BGMs are available for download as well to fit the tastes of the user. The program also gives access to a built-in metronome.
OREMO also supplies a pitch guide, which, once a recording has been completed, will compare the pitch of the sample to a predetermined note (this is the red line pictured above). This helps the user to determine if their sample is on-tune. Users may also insert their favorite reclists into the program as well as a list of unique Suffixes. Essentially, one can record a multi-pitch voicebank with ease this way, as the user can simply select a Suffix to attach to the voice sample, and OREMO will automatically add the suffix to the filename.
Audacity doesn't necessarily include the features above, making it a more difficult software to record with. As OREMO is much more specialized, one can save an abundance of time by utilizing this unique tool.
WHY COVER BOTH PROGRAMS?
We understand that OREMO seems like the best option for recording a new voicebank. Still, sometimes, users prefer options they are familiar with rather than the community accepted software, which is OREMO.
If you are looking just to practice audio recording and learning what all the terminology means, we say try out Audacity.
If you plan to record voicebanks (VC, CV, VCCV, or others), we recommend sticking with OREMO.
For post-processing, we recommend Audacity or software similar to it.
Curious to know what the recording process is like for STUDIO OGIEN? Check out our OGIEN Recording Suite for more links and resources.